Publication number: 20210124231
Type: Application
Filed: Oct 28, 2019
Publication Date: Apr 29, 2021
Patent Grant number: 11264720
Applicant: Nokia Technologies Oy (Espoo)
Inventors: Dirk Wiegner (Schwaikheim), Wolfgang Templ (Sersheim), Senad Bulja (Dublin), Rose F. Kopf (Green Brook, NJ)
Application Number: 16/665,578
Abstract:  The basic idea of the invention is to combine Electro-Active (EA) polymer – in particular the ability of voltage controlled mechanical tuning – in combination with Electro-Chromic (EC) material – in particular the ability for voltage controlled dielectric tuning – in order to achieve enhanced overall tunability and flexibility of RF devices, circuits and analogue frontends. The idea can be applied to components and circuits which allow for mechanical and electrical tuning like antennas with e.g., parasitic patches, microstrip-based filters, etc. One exemplary possibility of combining the two materials for improved RF tuneability is described in Figure 1, using the example of an antenna configuration based on an active antenna patch and a passive parasitic patch.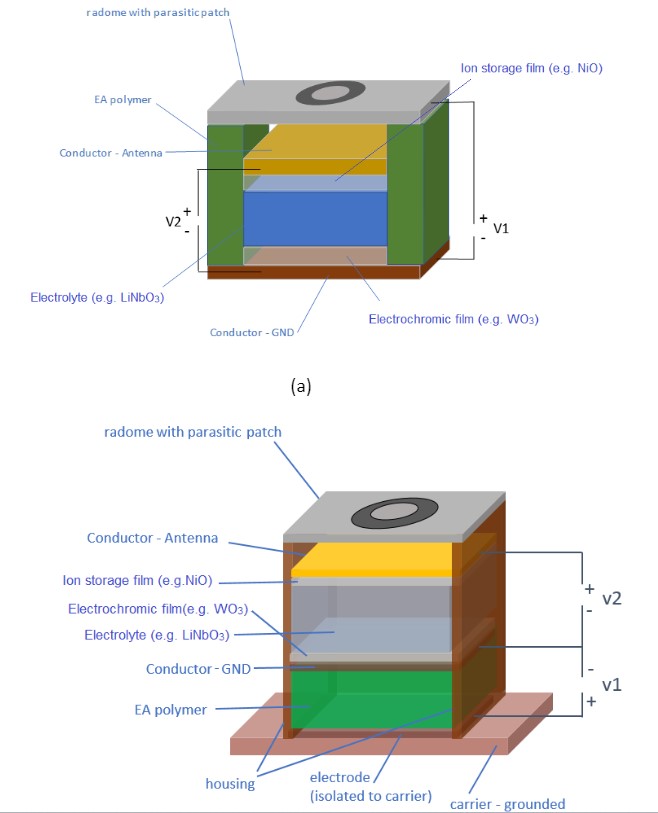 a): moveable parasitic patch on EA material-based stands;
b): moveable active patch on EA based material