First radio implementation and history
Heinrich Hertz, 1887: First spark generator at Karlsruhe High-School for Technology

A century forward – base station technology in the digital age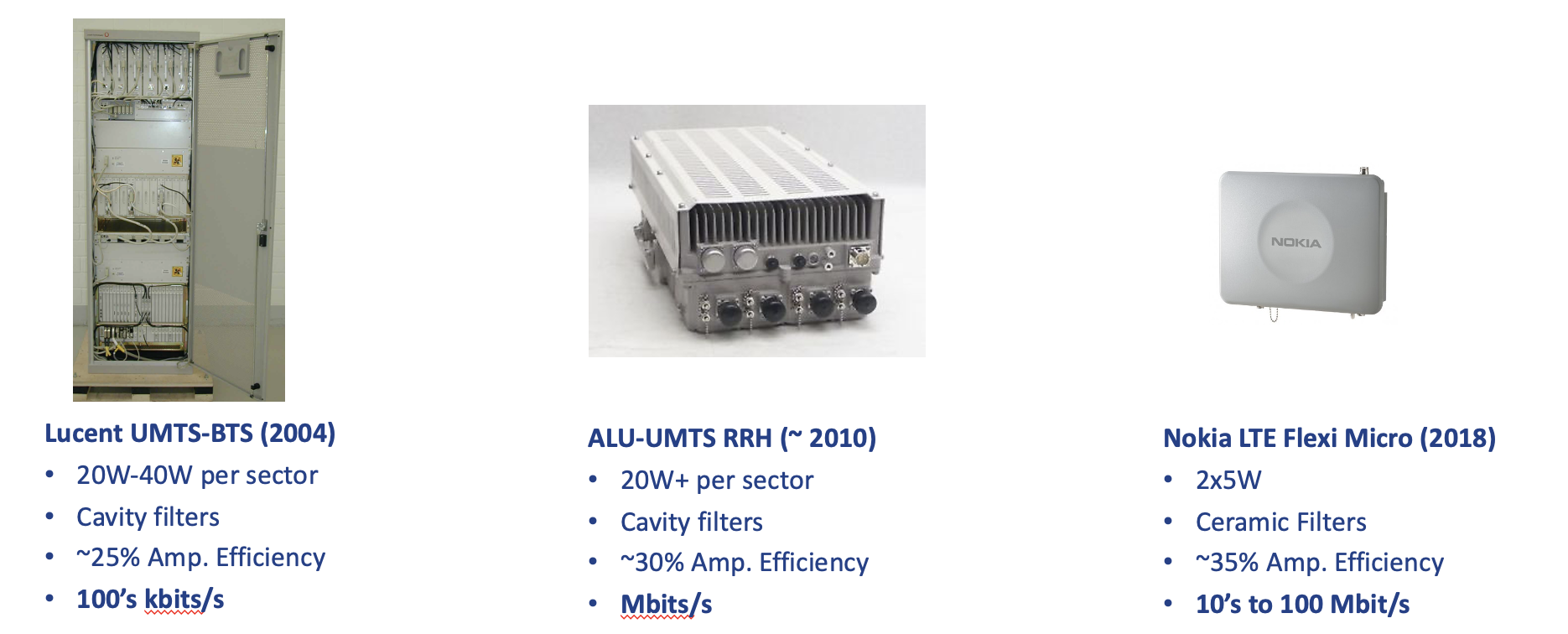 Motivation – Modern day
Driven by size reduction – in base stations operating at lower GHz, size of diplexers over 70 % of the entire transceiver. 

Driven by cost – ceramic based filters have performance edge over cavity solutions, but it comes at cost. 

Driven by performance – assuming a base station with a power output of 50 dBm (100 W), losing 1 dB infers losing 20W. 

Frequency reconfigurability and tunability are becoming of greater importance as new bands are opening up, such as FR 2 (5G) and the likely need in 6G. 

Reconfigurability still in infancy, with great deal of effort dedicated to bulk-tuneable materials (Liquid Crystals, Ferro-electrics, Electro-chromic materials and Transition Metal Oxides)          
Distributed Resonator – Basic Idea with two resonators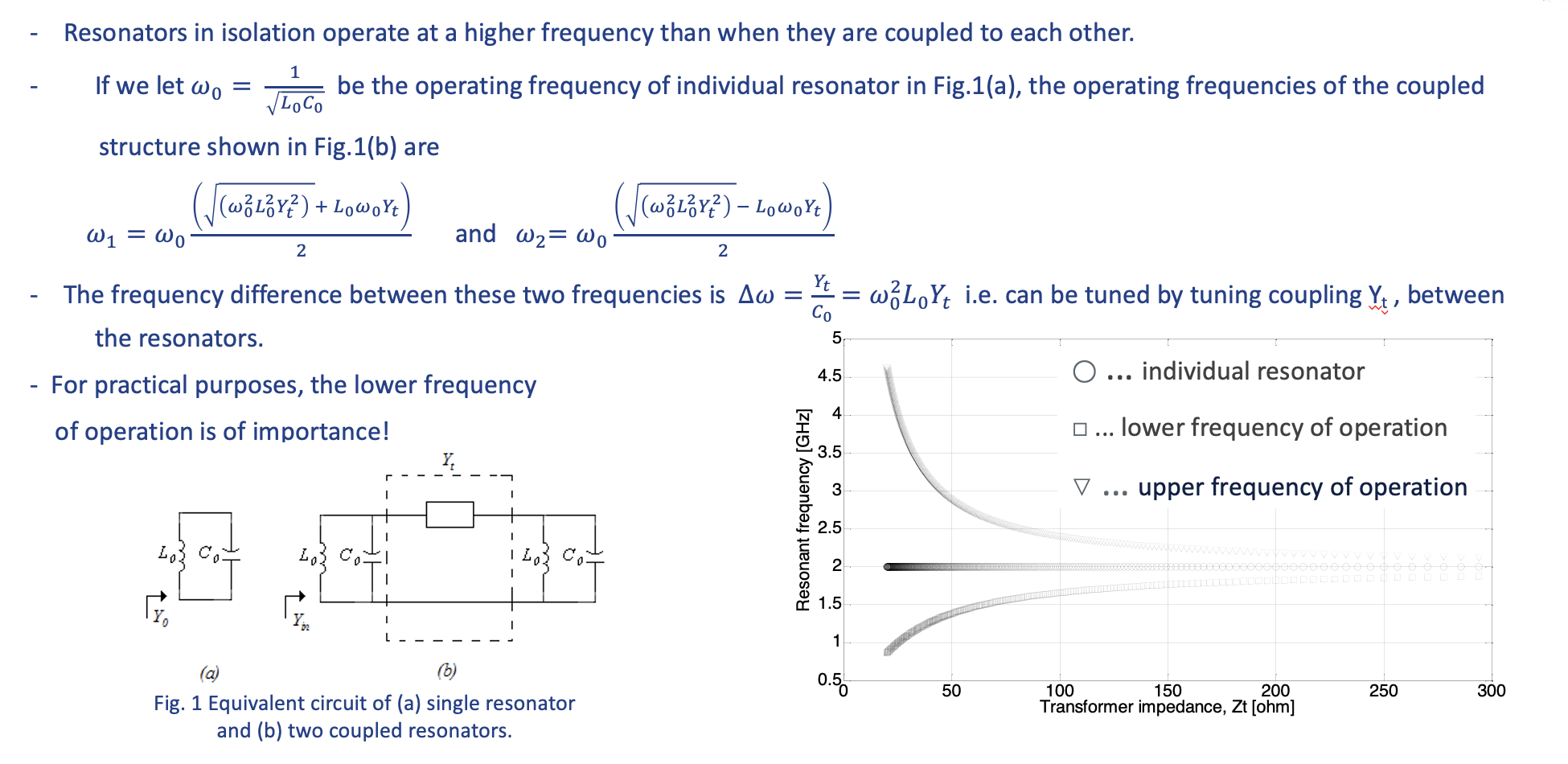 Distributed Resonator – with any number of individual resonators
Resonance distribution can be extended to a large number of individual elements for reduced frequency of operation.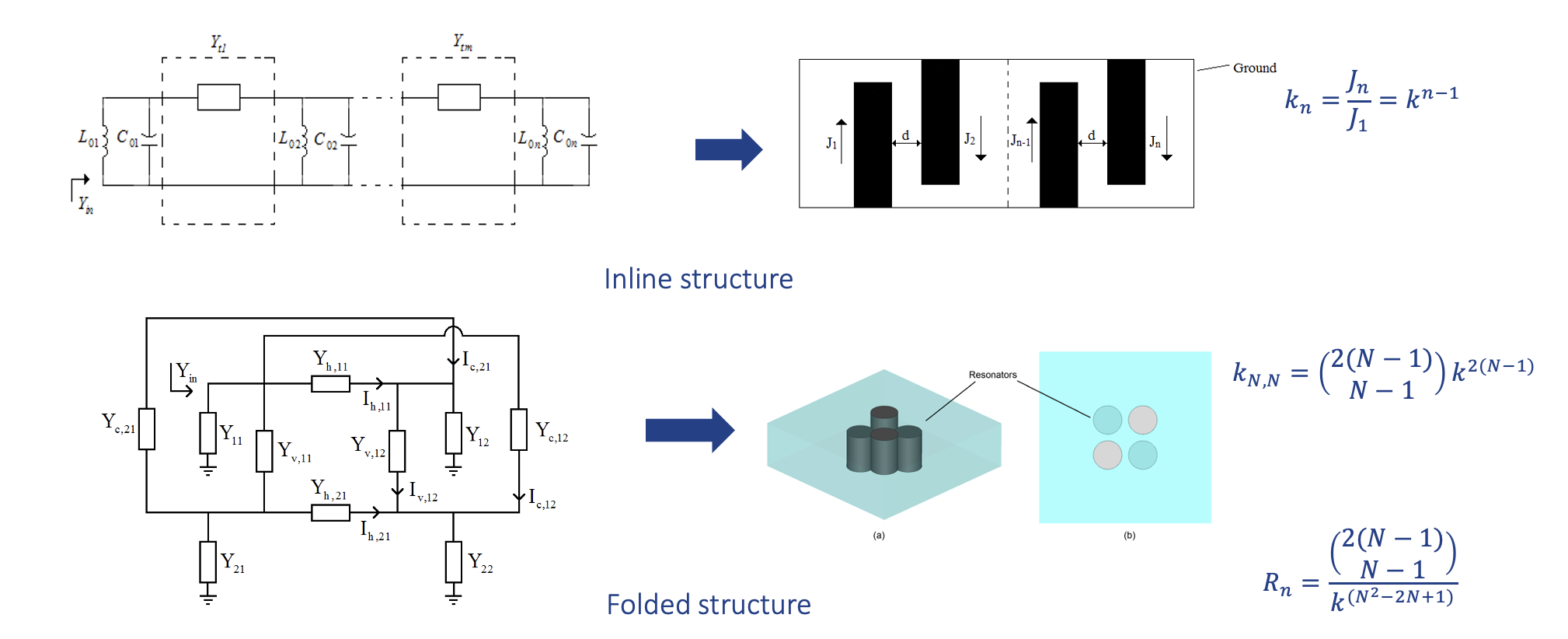 Distributed Resonator – Operation
Operating frequency can be reduced by folding individual resonant elements

The frequency of operation of the folded structure is always lower than the inline structure
Distributed Resonator – 3-Pole filter Results
In order to test the theory, a 3-pole filter operating at 1800 MHz with a bandwidth of 40 MHz was designed and fabricated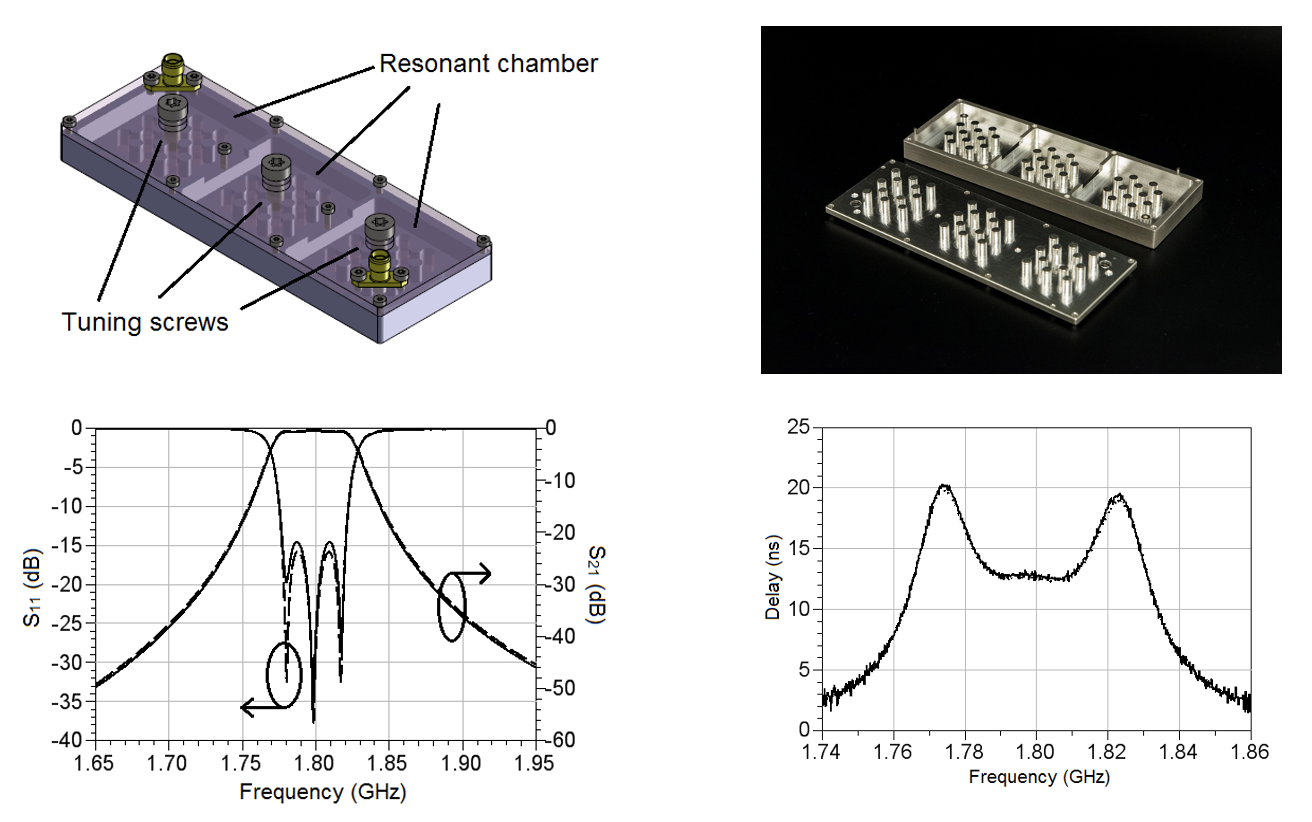 Each resonant chamber consists of 25 high frequency resonant elements – the tuning screw behaves as one of the resonant elements – unloaded Q of  1900.
Split-Distributed Resonator
-A more uniform distribution of electric field intensity among individual resonant elements should result in better electrical performance and better power handling
-Individual resonant elements are made in a distributed element fashion themselves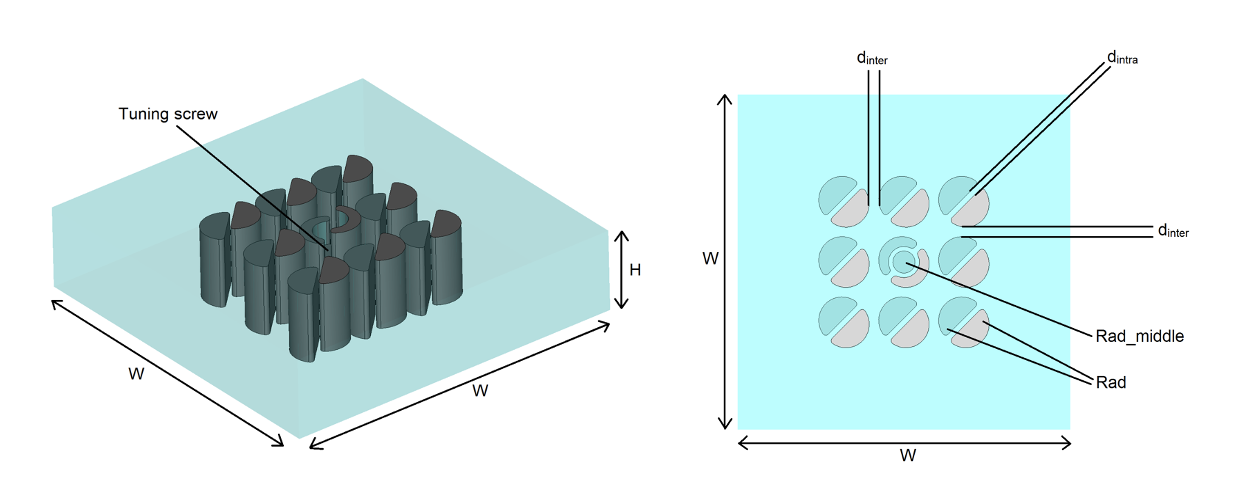 -Individual pairs couple among themselves (inter) and inside (intra) each other
-Coupling along the downward, left right diagonal of element pairs is achieved
-Resonant matrix can be arbitrarily extended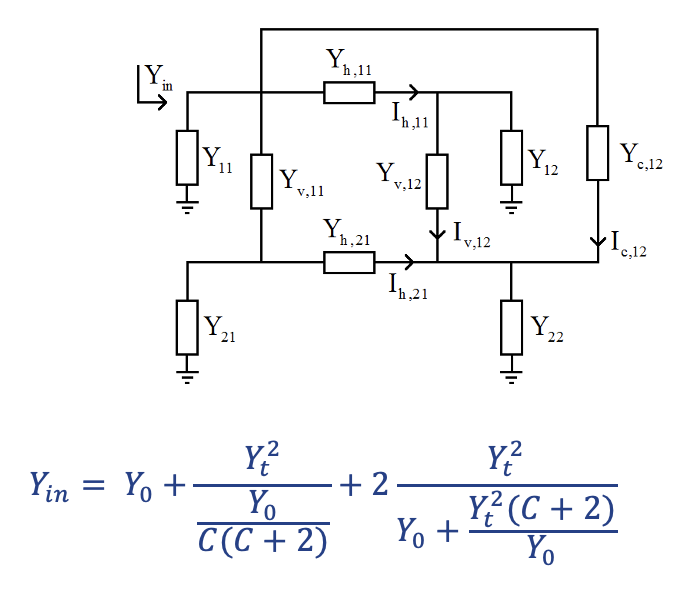 Split-Distributed Filter (5-pole)
-Each cylindrical element is split into 4 separate elements to obtain better distribution of electric field.
-Individual chamber size is 30 mm x 30 mm x 5 mm and consists of 3x3x4 (36) elements
-Maximum power handling of over 70 W (CW)
– Lower volume (over 40 % for same performance)
-Comparable power handling performance

Varieties of distributed resonators – Co-centric distributed resonator and miniature coax-resonator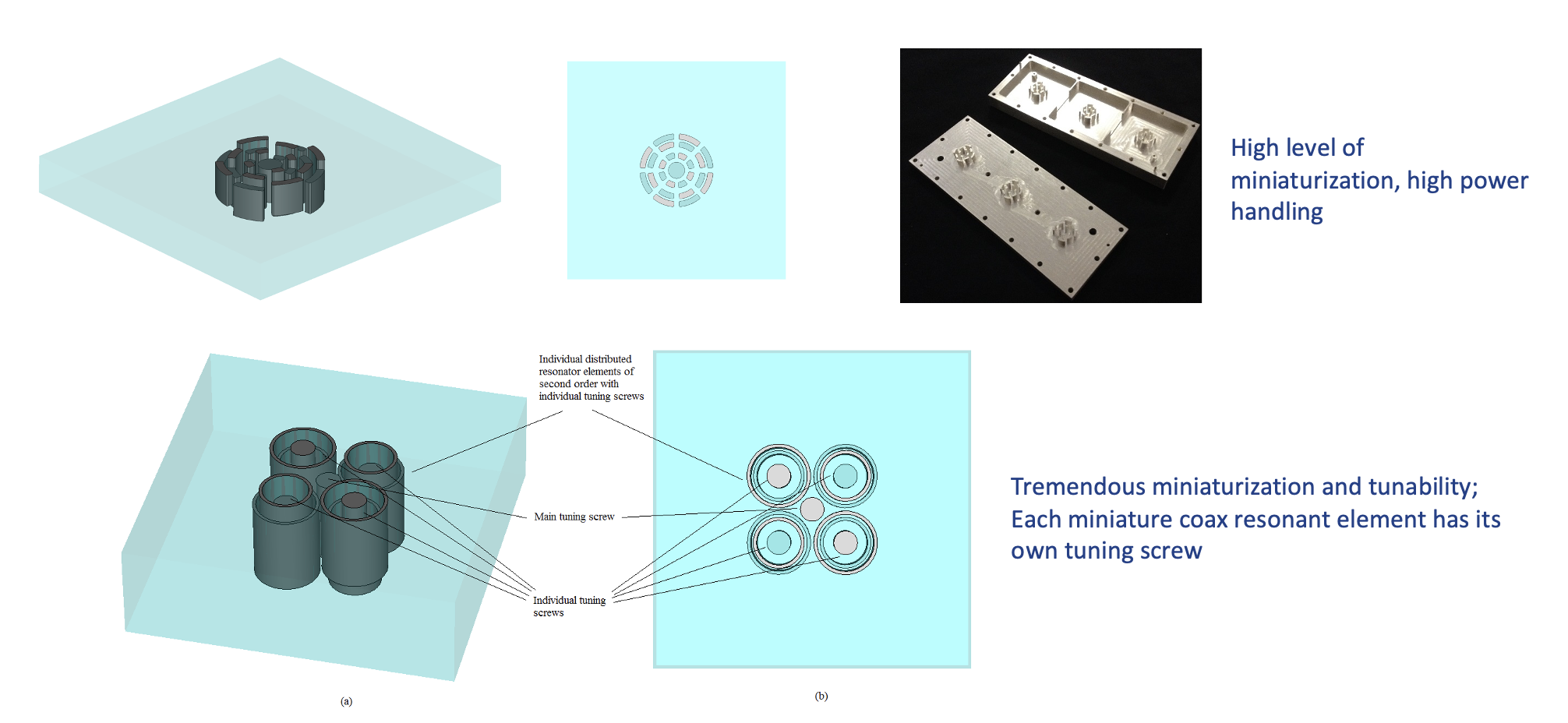 PCB Distributed Resonator – 3-pole Prototype I

-3-pole filter fabricated using TMM 13 I substrate, with dielectric permittivity of 12.85
-Individual resonator dimensions are 30 x 30 x 3.175 mm3 , with unloaded Q of about 500
-Coupling walls achieved by subtractive manufacturing
Total filter dimensions 92 x 30 x 3.175 mm3
PCB Distributed Resonator – measured vs simulated results

-Good agreement of tuned measured filter with simulations
-Predicted insertion loss of 1.67 dB vs measured insertion loss of 1.8 dB
-Predicted return loss is 16 dB while measurements show 10 dB in the corresponding frequency range
-Downside on the need for post-production tuning
11 x 11 Multilayered PCB Distributed Filter
-Eliminate the need for post-fabrication tuning – achievable by increasing the number of individual resonant elements. This eliminates the zero-mean statistical imperfections, such as drill depth. It does not eliminate deterministic errors (non-zero mean), such as different dielectric constants in measurements as compared to simulations
-Example below fabricated in PCB multi-layer technology consisting of 5 layer (Tachyon)


-2-pole filter fabricated using 5 Tachyon substrates pressed together, with dielectric permittivities ranging from 3.04 to 3.25
-Individual resonator dimensions are 40 x 40 x 1.27 mm3 , with unloaded Q of about 400
-Coupling walls achieved by subtractive manufacturing
-Total filter dimensions 82 x 40 x 1.27 mm3
-Very high power handling – no performance degradation even at 100 W (CW)
-No post production tuning
Metal drawn mm-wave distributed filter at 28 GHz (9×9 resonant element matrix)
Basic principle
Use a large number of resonators
Any variations in the manufacturing process is overcome by the collective properties of the design.
Avoids postproduction tuning.
Characteristics
Qu = 500, 6-pole filter (6 stacked resonant cavities in 2×3 configuration)
Dimensions (each resonator): 5 x 5.5 x 0.4 mm3
No need for post fabrication tuning using cost effective metal drawing
Electrical height of only 13o
Insertion loss of less than 1 dB only
Summary
1.Distributed resonators explained – trading height for surface area
2.Resonant frequency no longer a strong function of height
3.Very-low profile for given operational frequency – down to 100 while maintaining performance
4.Possibility of dimensional averaging – no post-production tuning required
Bulk Tuneable materials
To date:
Liquid crystals (LC): nematic types examined, limited tuning range 20%-40%. Moderate bias voltages ~ 10 V (dc or low frequency ac). No memory effect.
Ferroelectrics (FE): moderate to high bias voltages needed (depending on the thickness of films). High values of dielectric permittivities.
New materials:
Dielectro-Phoresis (DP): movement of uncharged particles under the influence of gradient of electric field; slow. More research needed.
Phase change materials: Creation of Magneli phases in the interior of oxides of certain transition metals. Moderate bias voltage (up to 10 V).
Electro-Chromic (EC) materials: dielectric tunability discovered in 2016. Moderate bias voltages (~10 V dc), memory effect, easily tuneable absolute values of permittivity.
Dielectro-Phoresis 
Facts:
The movement of uncharged dielectric particles under the influence of non-uniform (gradient) of electric field.
Commonly used in biological sciences to transport different particles.
Different particles respond to different frequencies.
Research questions:
Can dielectric characteristics be manipulated – can we induce dielectric tunability?
Can we make RF devices based on DP?
Can we improve on the speed?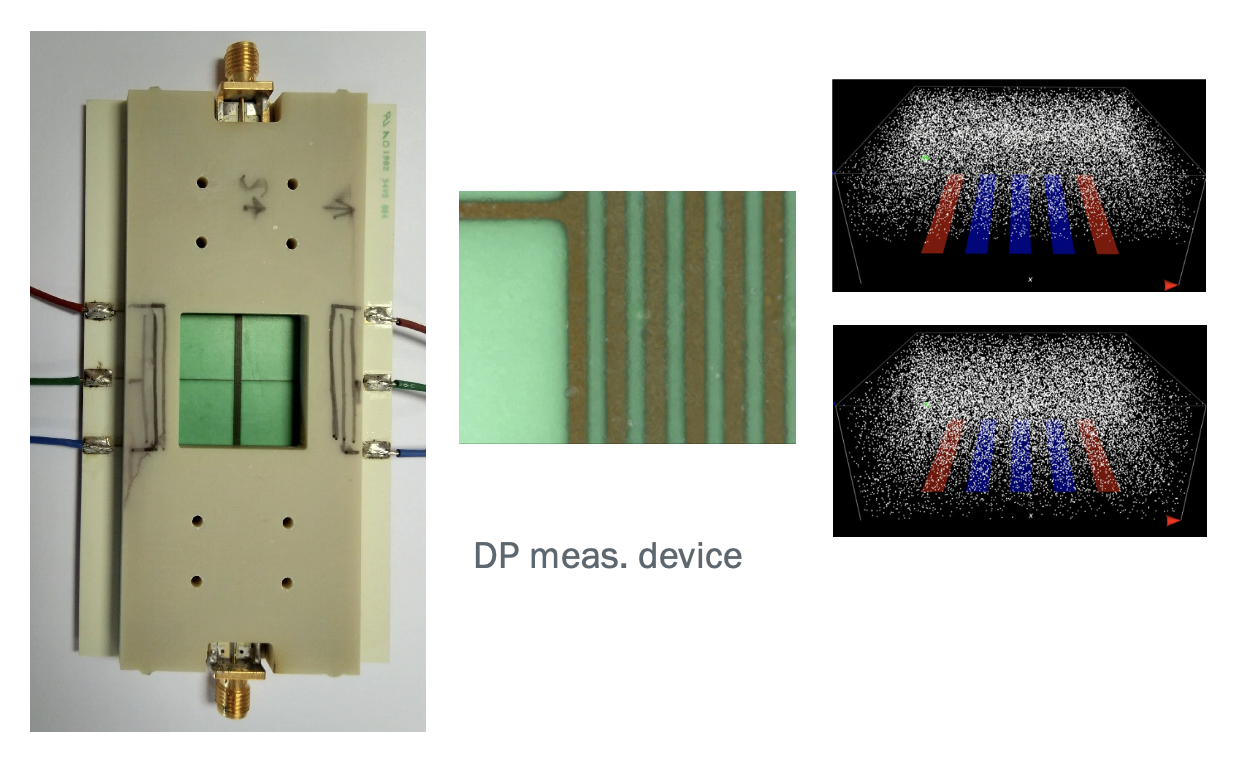 Phase Change Materials
Phenomenon not fully understood, believed to be due to impurities in oxides of transition metals – formation of Magneli phases.
Transition (Mott) from dielectric to metallic state induced by elevated temperature or application of DC bias.
Most widely examined oxide VO2.
Very promising research area.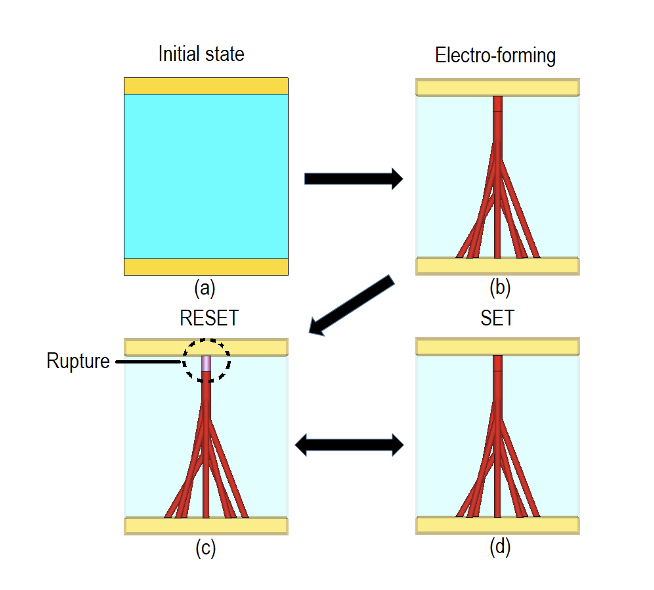 Electrochromism
Electrochromism (traditionally) refers to changes in optical properties caused by movement of charges induced by external electric field
Exhibited by several organic and inorganic compounds
Electrochromic materials can revert to its original state by reversing electric field that produced the change

RF test measurement cell

Test well-known materials that exhibit optical EC effect for their RF potential (dielectric tunability).
Inorganic materials are preferred due to their long life (NiO and WO3).
Use height of LiNbO3 as parameter – two cases: 500 nm (cell 1) and 700 nm (cell 2)
Initial dielectric tunability results for 2 cells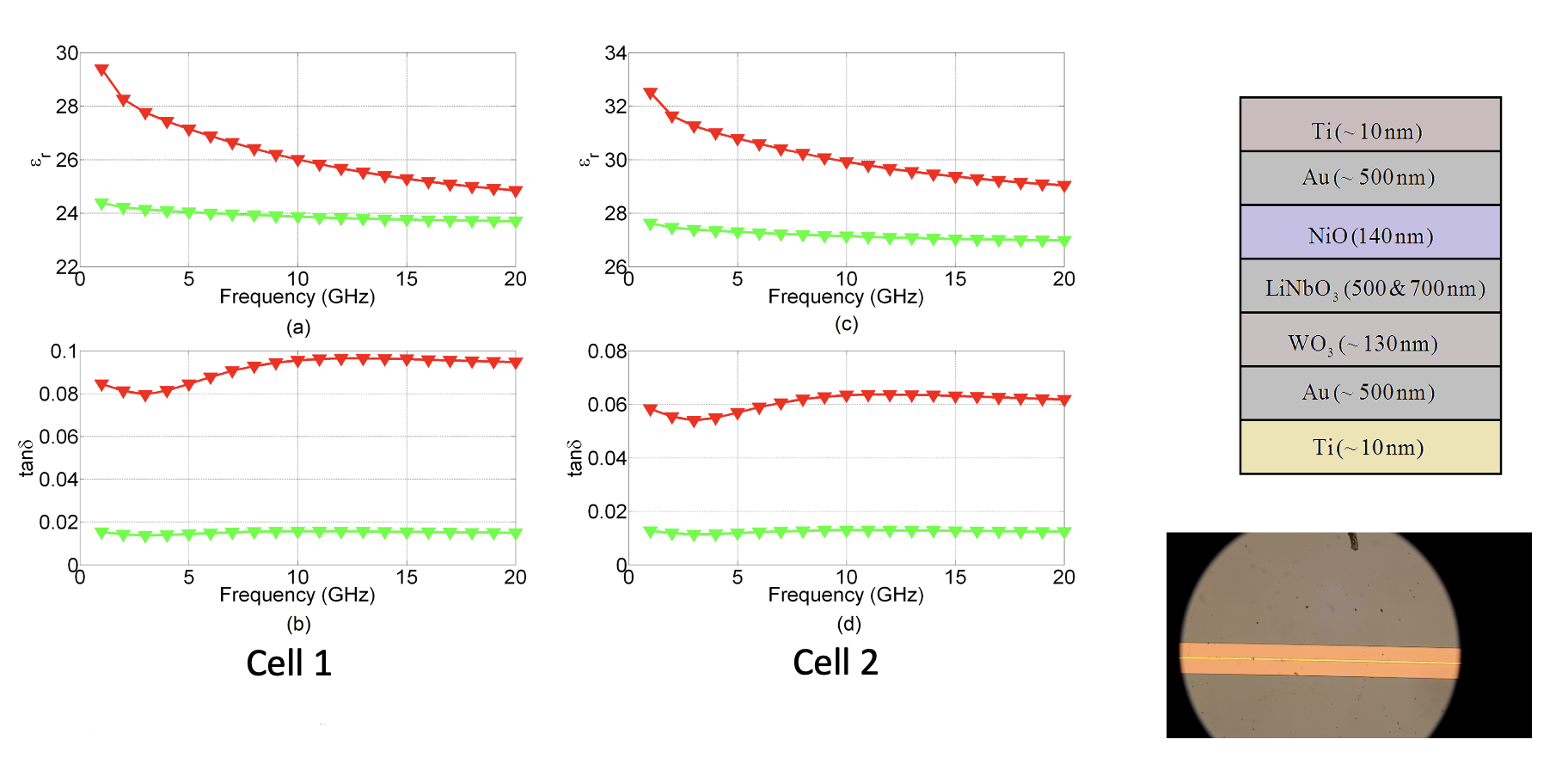 Dielectric tunability of Cell 1 is between 5 % and 20 %, while for cell 2 it is between 8 % and 18 %
Loss tangent tunability is much greater – it is over 360 % for both cells
Tuneable optical properties of EC
Modulation of dielectric tunability at mm-wave frequencies extends to optical frequencies
Can be modulated in a simple manner – by changing heights of LiNbO3 layer (500 nm and 700 nm)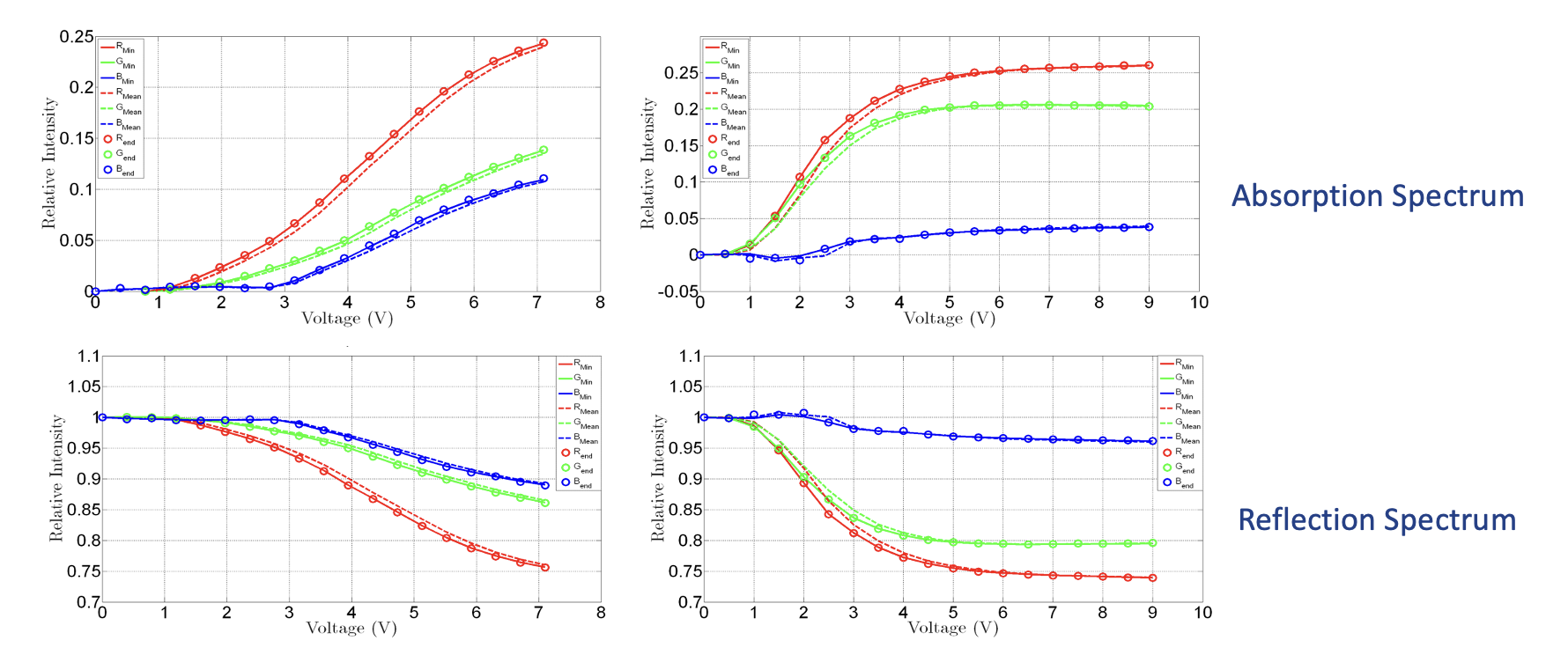 New EC cell structure – can we do better with standard NiO/LiNbO3/WO3  materials – LiNbO3/NiO/WO3/LiNbO3?
Major limitation of standard EC cells lies with the fact that upon actuation, chromic layers become conductive, thereby reducing the channel height.
A new EC cell structure shown below does not have such limitation
Initial results indicate a change of no less than 80 % is achieved – tremendous result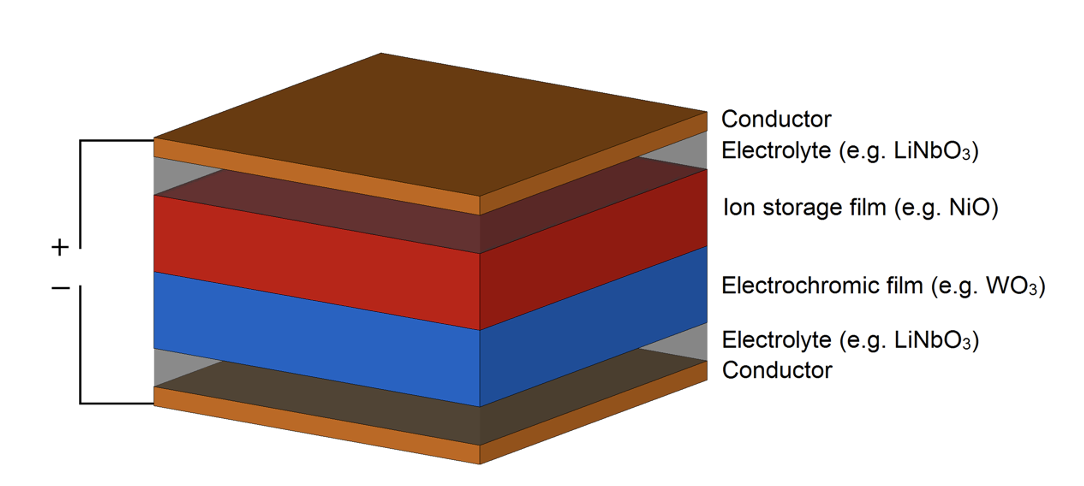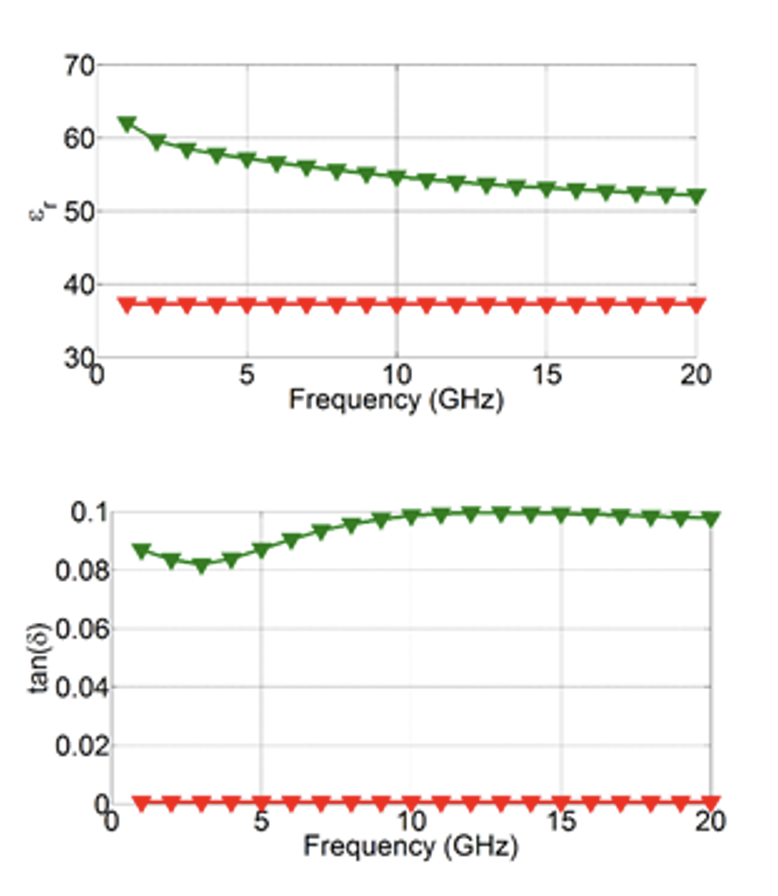 EC based Aperture-Coupled Reflectarray Element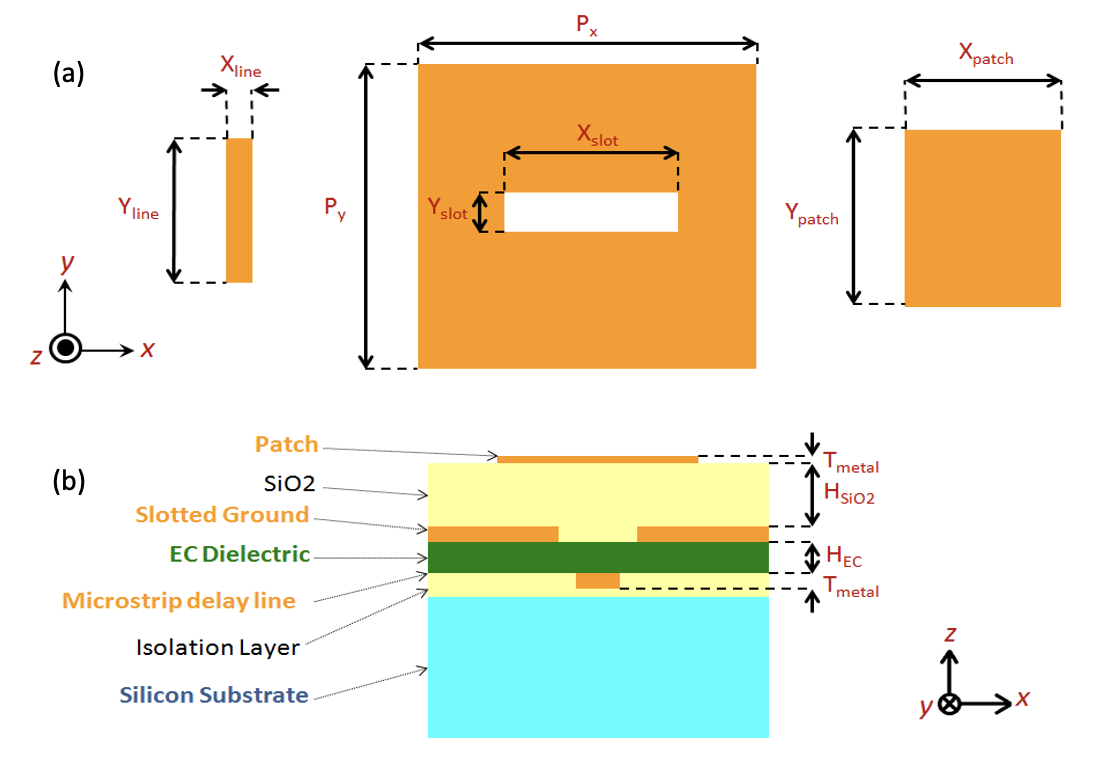 Topology of the EC- based aperture- coupled reflectarray unit cell (not to scale), [1] (a) front view and (b) side view. The delay line is etched in the isolation layer (SiO2 of thickness 2 µm), however, it is shown as a separate entity.
EC based Aperture-Coupled Reflectarray (5,000+ antenna elements)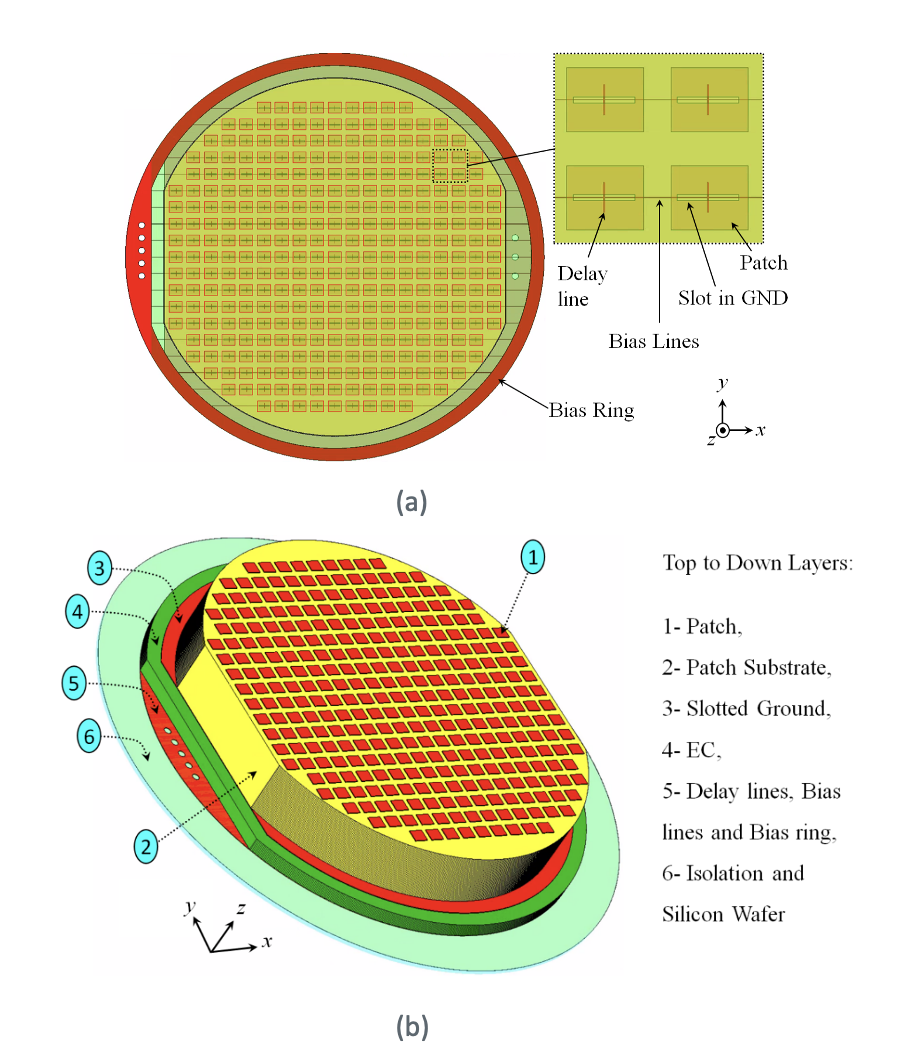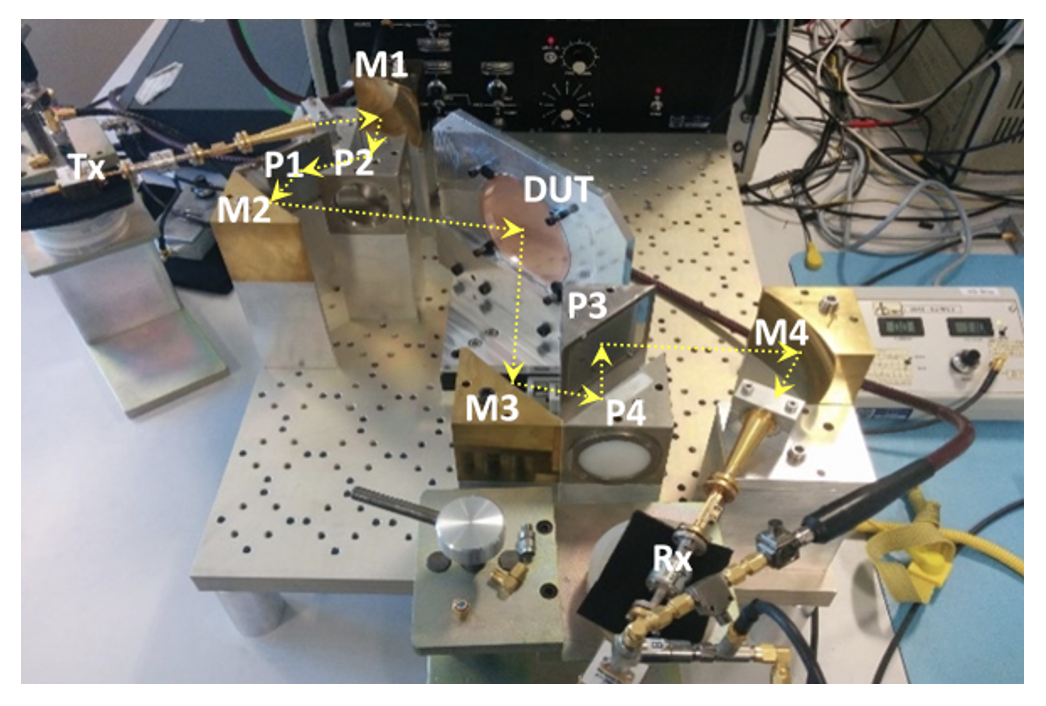 Test setup to be used for reflectarray measurements (M – mirrors, P – corner reflectors). The signal path is shown by yellow arrows.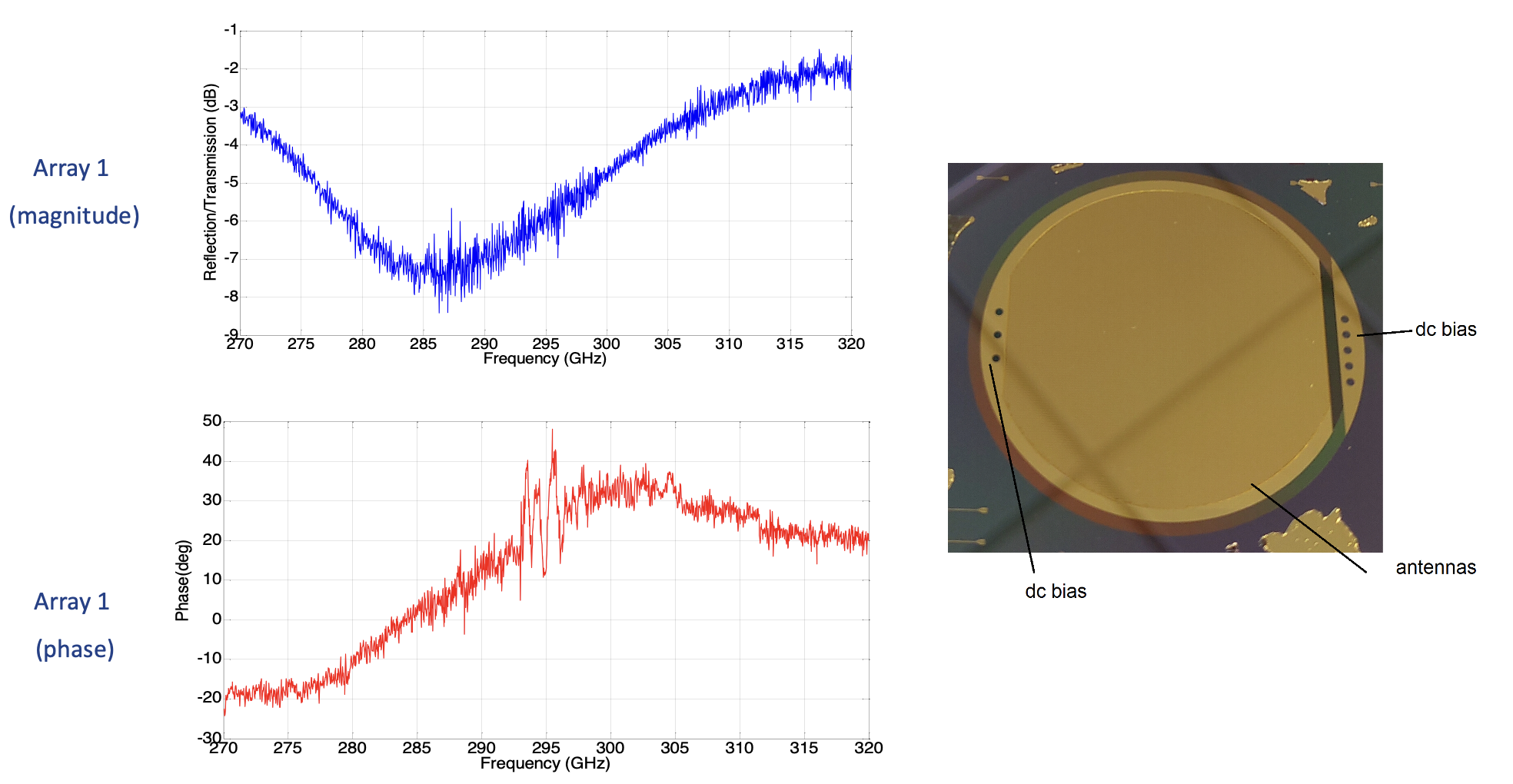 Summary
Next generation technologies require high quality RF/mm-wave devices, filters among them.
Flexible spectrum usage is expected to play a very important role.
The focus is not only on new RF techniques, but the intricate interplay with new bulk tuneable materials.
Several promising candidates are identified, but more work needs to be done.
Fundamental challenges will need to be addressed by working closely with material scientists, chemists and engineers.
Contact us for more information on our services!