Publication number: 20200161759
Type: Application
Filed: Nov 20, 2018
Publication Date: May 21, 2020
Patent Grant number: 10903568
Inventors: Senad BULJA (Dublin), Rose KOPF (Greenbrook, NJ), Robert CAHILL (Jordanstown), Majid NOROOZIARAB (Blanchardstown)
Application Number: 16/196,517
Abstract:  In this invention a patch antenna and a reflect-array based on Electro-Chromic (EC) material is disclosed. The basic structure of the reflect-array unit cell is shown in Fig. 1 and the designed reflect-array operating at 300 GHz using the unit cell of Fig. 1 is shown in Fig. 2.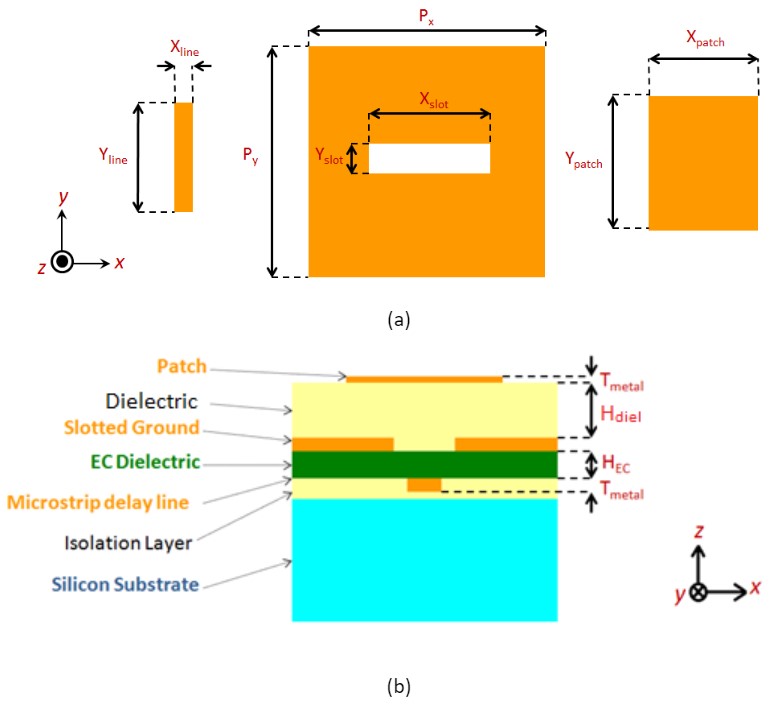 The substrate for the patch can be any suitable dielectric such as SiO2 or BCB. The delay line is etched in the isolation layer, however, it is shown as a separate entity. The isolation layer can be any suitable dielectric such as SiO2 , SiN, BCB, to name but a few.