Overview
We offer comprehensive rectenna design services. We have extensive experience in the design of rectennas up to 10 GHz.  Our rectenna designs are usually based on Schottky-type active components (such as Schottky diodes) and, depending on the specified input power level, are offered in realizations of 1,2,3 and 4 diodes. Our primary focus in the design of rectennas lies with meeting and exceeding customers' electrical (efficiency for example) and cost requirements. As the efficiency of a rectifier is a strong function of the characteristics of the active component, all our rectenna designs are optimised to make the best use of the chosen diode (its breakdown voltage, threshold voltage, PCB type, junction capacitance and termination type to name but a few), which is in turn strongly influenced by customer requirements. Most of our designs are provided with a view of being used in a 50 Ω system and are thus compatible with most types of antennas, however, we also provide rectennas with different impedance terminations – please ask for details. Our extensive expertise in rectenna design enables us to rapidly produce an optimum efficiency rectenna depending on the chosen active component and PCB substrate.
Design type
Narrow-band rectenna designs for point-to-point wireless energy harvesting.
Broad-band rectenna designs for ambient wireless energy harvesting.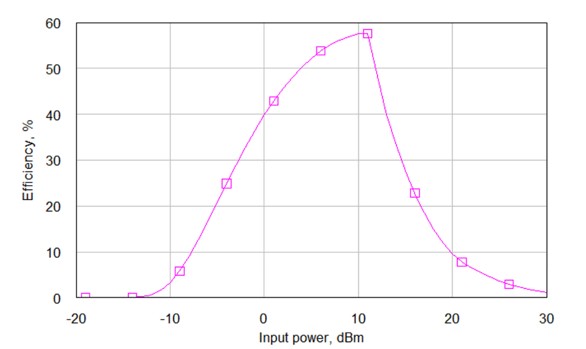 Fig. 2 Efficiency of a single diode rectifier based on the SMS7630 diode from Skyworks at 10 GHz.[/caption]
Main features

Optimum efficiencies for the given active component – efficiencies over 55% achieved at 10 GHz

Narrow-band and broad-band designs available

Customizable operational input power levels

Fig. 1. Simplified rectifying circuits; (a), single diode, (b) 2-diode and (c) 4-diode
Resources
Contact
Connect with us today to transform your RF vision into a reality!