Overview
We offer comprehensive filter design services. We have a strong portfolio of patented technologies available for adoption and licensing a very wide range of frequencies, up to 150 GHz. Our focus lies on overcoming the limitations posed by conventional filter design, to provide filter solutions that are custom made to suit the requirements of the customer. In doing so, our main focus is the reduction of size, weight and conformability without sacrifices in performance. Our 20-year-old expertise in filter design enables us to rapidly produce novel, superior and cost-effective filter solutions to suit our customers' needs. Experience our scalable designs tailored to your specific frequency needs.
Design type
Full-ceramic filters and metal loaded (SIW) filters
Frequency range up to 30 GHz covered
Tailor-made designs to meet customers' dimensional and electrical specifications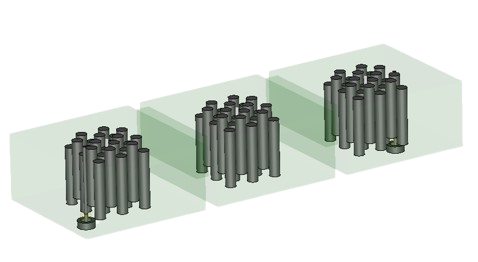 Fig. 1 Samples of our design range: (a): 8-pole cross-coupled filter centered at 3.6 GHz, with total dimensions of 42 mm x 20 mm x 5 mm; (b) 3-pole ceramic integrated distributed filter with a centre frequency of 300 MHz, with total dimensions of 32 mm x 10 x 5 mm.
Main features

Low losses with superior RF performance (insertion losses and wide spurious-free window)

Widely available flexible manufacturing processes and materials

Low cost and increased ease of integration

Widely available flexible manufacturing processes and materials
Superior design
Unmatched Directivity
Enhanced Signal Strength
Reliable Performance
Scalable and Customizable Solutions
Resources
Contact
Connect with us today to transform your RF vision into a reality!